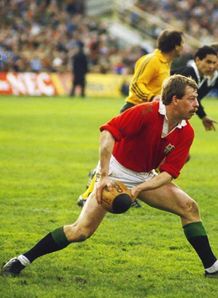 The 1983 squad joined the 1966 team as the only Lions to suffer a 4-0 series hammering, this time at the hands of the All Blacks
Ireland's Triple Crown winner Ciaran Fitzgerald led The Lions down to New Zealand and were coached by Jim Telfer and managed by Willie John McBride.
Injuries ravaged the squad and the intensity of the preparations was called into question as Roy Laidlow became the third-choice scrum-half after injuries to Terry Holmes and then Nigel Melville.
Six warm-up games in 16 days resulted in five wins and one loss but the matches took their toll on the squad who were only outclassed in the final Test.
The Lions took a 6-9 lead into half-time in the first Test but the All Blacks managed a Mark Shaw try to swing the match in their favour, running out 16-12 winners.
Conditions played their part in the second Test in Wellington as a gale swept through the area during the first half. The Lions had to restrict New Zealand to as low a score as possible and when they managed to go into the break 9-0 down, they were seen as clear favourites to take the match in the second half.
However, they failed to take advantage of the wind and could not find a way past the defence, failing to register a single point.
Two unconverted tries from Roger Baird and John Rutherford were not enough for The Lions to save the series in the third Test as New Zealand went 3-0 up with a 15-8 victory.
The 'Black wash' was on and New Zealand were going all out to add humiliation to The Lions' series defeat.
The toursits were blown away by a masterclass of attacking prowess as New Zealand romped to a 38-6 win to emphasise their quality, running in six tries in the process.