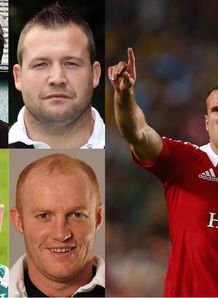 On Saturday, in the most dramatic of finishes, the Wallabies turned their fortunes around and levelled the series, as, with delicious irony, Leigh Halfpenny's last-gasp penalty attempt failed to take the Lions to series glory.
Our Expert Witnesses return to Planet Rugby to preview the final epic showdown in Sydney.
Welsh flanker Martyn Williams, a Lion of three tours, is relishing the prospect ahead:
"What a game!," he exclaimed.
"You can't take that away from Australia, they were outstanding and their comeback showed just how little there is between these two teams.
"Saturday will be huge. It will be the biggest game a lot of the players of both teams have played in, and many of them will only have this one chance to emerge victors in a Lions Test series."
Martin Corry, a veteran of seven Lions Test matches, concurs.
"Australia were compelling in every aspect of the game," said Corry.
"We've identified the need for players to put in career defining performances and both Will Genia and Adam Ashley-Cooper did exactly that. The orchestration of Genia from scrum-half is outstanding. His innate understanding of space, defence and gaps is second to none, and he's been the absolute difference between these sides so far."
With the rather important name of S. K. Warburton Esq. now added to the Lions' ever-lengthening injury list, but importantly, Dr Jamie Roberts coming off that same list, and with the legendary Lion Brian O'Driscoll axed for the first time in his illustrious career, what do the 2013 tourists need to do to change the tide?
Geordan Murphy, one of European rugby's most gifted attacking backs, believes it's a case of variety:
"We've played some good rugby and some so-so rugby," he observed.
"However, Warren Gatland has always placed great emphasis on forward domination and big backs. When that doesn't work we need to change the approach, and that's where we've been found wanting. There is a lack of a Plan B, and a lack of accuracy in delivering Plan A.
"We need also to control where we're attacking from. We have a tendency not to be playing in the red zone, and spending too much time in the middle third of the field."
With Warren Gatland making possibly the most controversial selection decision of his career, Davies retained and O'Driscoll dropped, are the Lions actually admitting they have no other option than the big physical game strategy, and have they abdicated developing any form of back-up tactic?
Murphy believes that in previous games the balance has been wrong in the midfield.
"We can debate the O'Driscoll situation all day, but the key, to me, is the absence of Jamie Roberts. So much of Wales' decisioning comes from his huge presence. He's a very intelligent guy and he's the glue that holds Gatland's approach together," said the former Leicester full-back.
"A lot of people wrongly assume inside and outside centre are similar roles. They're not, and having contrasting skill sets is a key requirement of a balanced midfield.
"Roberts is capable of running the classic, straight, powerful 12 channel line, by coming back straight and attacking the inside shoulder of the opposing inside centre, thus also tying in the openside flanker and fly-half, all of whom will be committed to defence.
"Look, Jonathan Davies and Brian O'Driscoll are outstanding rugby players, their intent is to run outside the defenders in front of them attacking their outside shoulder, which means the Lions centres are dragging their own supporting runners further across the pitch, and diluting options. In short, the breakdown occurs wider, with less support, and fewer attacking choices.
"Gatland's game plan relies upon the big runs that Roberts makes, driving contact behind the gain line. Mike Phillips is a master of exploiting this style of rugby and Roberts' presence allows him to choose to go around the corner and snipe, to launch a back move or to bring big ball carriers in from the forwards. Three clear options, all created initially by the big powerful inside centre run.
"With Jon and Brian playing together, we've lacked the counterpoint that Roberts brings, and, without the physical threat of Jamie, the Australian loose forwards and inside backs have been able to maintain their defensive shape with much more confidence," explained Murphy.
"It is a shame Brian will not be on the field and I do believe that the Lions will sorely miss his leadership and the Aussies will be pleased not to face the Leinsterman. However, Jonathan Davies is a form pick and knows the games of a lot of his fellow backs, but you have to wonder if the Lions will miss the X-factor that Brian brings, and the experience of the big match environment. We shall see."
Martyn Williams believes that despite Warburton's excellence in the second Test, that Sean O'Brien's inclusion will also benefit the tourists.
"There really was no clean line break by the Lions in 80 minutes. Sean O'Brien, whilst possibly not as good as Sam defensively, will bring much needed power to the carrying. Factor in Jamie's return, and Australia's defensive emphasis has to change to contain the route one runners," he said.
"We've played two Tests now, and there is a need to change things to win the series. Australia have been in the top two or three sides in the world for ten years, and that does not happen by accident. They are arguably the most intelligent side in world rugby, and they'll be absolutely prepared and clear on how they're going to defend.
"In 2009, we won the last Test with a big change in personnel. South Africa had to change their patterns as they were less familiar with the new players we fielded. That really underlines the need to bring fresh ideas, and potentially fresh legs to the gameplan. Whilst Jamie Heaslip has played well, Toby Faletau is also a form player, and his inclusion will bring more physicality."
The scrummage battle seemed one of parity, although areas of the media are at odds with some of the scrum interpretations.
Mark 'Ronnie' Regan believes that Mako Vunipolo came out overall in credit, despite a couple of early scrum penalties, but that Alex Corbisiero will bring technical accuracy to the scrum battle:
"There was a lot of ammunition in the week regarding the legality of Mako's scrummaging. However, he had a decent night, all things considered. Where perhaps we're lacking is what I'd term 'scrum management'. Mako is being brought more and more into an individual battle with Ben Alexander, and if that remains his focus, the collective eight will suffer," explained Regan.
"The return of Corbisiero will greatly improve the collective.
"No prop can win a game on his own. A prop is one hand of a boxer. You have the speed and the killer jab, but you need the body, feet and other hand too, That means the front row, with the assistance of the second row, need to work as a team.
"At the moment, the Australian eight are doing that slightly better than us. They are more dynamic and percussive at the hit, whereas Vunipolo, and to a much lesser extent, Adam Jones, are embroiled in one on one battles.
"I believe that Corbisiero will make a big difference . He needs to be 'pinching the scrum' back to the tighthead side and attacking Ben Alexander's ribs.
"With refs emphasizing the need for a clean bind, I have noticed that Ben sometimes over compensates and throws his right arm out too far, right to the small of the looseheads's back. This exposes his rump (ribcage area) and allows the loosehead to pivot out and then drive back in under the ribcage and force the tighthead up, a tactic that won two penalties. Ben needs to tuck his right elbow in, and punch to get the bind as low as possible.
"Graham Rowntree will be well aware of this, and will be wanting his loosehead to attack the 'hit' and make Alexander's binding tough for him.
"Returning to Martyn's point about fresh legs, it is good to see, in this instance, Richard Hibbard given the starting role. He's used to playing alongside Bomb (Adam Jones) and we need to have the best scrum unit available early on. Harsh on Tom Youngs, but conversely he's also a better impact player than Hibbard."
Short of a further IRB appeal to the International Court of Human Rights, Wallaby skipper James Horwill looks set to lead his side one again. Corry, a seasoned international captain, recognises the importance of Horwill's brooding presence.
"He is an exceptional leader, and one that does so through example. He put in an immense shift on Saturday, and both he, Ashley-Cooper and Genia are the leaders of that side," the former Tiger added.
"The Australians have a lot of younger or inexperienced players in that team, and it's obvious that in every break, Ashley-Cooper, Genia and Horwill are the guys the youngsters turn to. If Horwill has not been available, it would have made a quantum difference to the Australian confidence."
Leading the Wallaby backs, and for many years an unsung hero of Australian rugby, Adam Ashley-Cooper's influence on this series is growing. Geordan Murphy is a big fan of the Waratah.
"He's the cement in the Australian side. I was watching him go head to head with the Lions' centres and he gave them nothing all day in an outstanding display of pragmatic rugby awareness," he said.
"He's a supremely talented guy and good enough to have been capped all across the backline. What is most striking about him is his desire and intelligence. He understands the game, and he recognises what difference detail makes.
"On Saturday, he won four clear re-starts, running in the classic openside channel from the kick off. That's the sort of thing that changes games and maintains pressure. If you consider that the Lions had North, Bowe, Lydiate, Heaslip and latterly, Croft to perform the same task, and that they took two restarts between them, then you see the influence Adam has.
"It's great to see him rising above the other midfield backs in the series and he's really been as crucial to Wallaby fortunes as Folau or Genia. It again underlines the importance of Jamie Roberts' return, as he will close down the space for all three key Wallaby backs and also focus their minds on defensive duties."
With the series all square and everything to play for, we asked each of our experts for their views in one area in which the Lions need to improve.
Mark Regan: "Scrum management. Get the unit working as an eight as we did in Dan Coles' first scrum. Teamship is crucial and knowing the collective goal is key. Pick players to work as a unit, not as individuals."
Geordan Murphy: "Attacking intent and accuracy. Get Roberts smashing up the middle, tying in defence and allowing options to launch the second phase. Vary the plays, and change the point of attack. We must look not to absorb, but to create and, most importantly of all, to play in the right areas of the field."
Martyn Williams: "Despite his selections, a Plan B! Seriously, Warren's structure and methods are well known, but at this level, possibly too well known. We need to vary our plays, and perhaps utilise fresh players and fresh legs that brings the Wallabies new challenges. Make them think, and keep their minds focused on defence, but don't rely on the 'same old same old' to test a side of the quality of this Wallaby outfit."
Martin Corry: "Composure and leadership. This week, a former skipper, Brian O'Driscoll, made a short speech to the Lions about what playing for the Lions has meant to him. There wasn't a dry eye to be seen. This is the swansong for the most heroic of Lions warriors, an all-time great of the sport, and he will want his teammates to go out with a win. Last week we perhaps froze a little with a difficult six point lead, and players like Sexton and Youngs looked nervous in their decision-making. Alun-Wyn Jones will have his work cut out without the senior players like O'Driscoll and O'Connell around, and clear leadership and accurate decisioning are utterly vital."
Once again, our thanks go out to our Experts. We will return for the last instalment of Expert Witness next week, when we present the end of term report card for the British and Irish Lions of 2013, as the tour reaches a climax befitting of its billing.
Be sure to join us.
Corry, Williams, Murphy and Regan spoke to James While