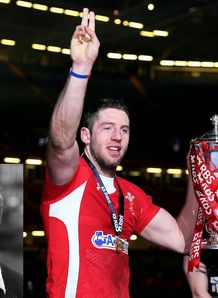 In the final Six Nations instalment of Expert Witness, this week's guest is a player that epitomises the word great. With five British and Irish Lions tours and 12 test caps under his belt, and 69 appearances in the green of Ireland, we welcome the peerless Irish centre, Mike Gibson.
This season's Six Nations stuttered rather than flowed to last weekend's climax. With that in mind, who could have predicted the firecracker of a finale produced in Cardiff? Gibson, one of the greatest players to have graced the international stage, believes that this last round of games has totally torn up the form guide.
"If you had gone into the bookmakers at half time in the Wales/Ireland game, and had placed a bet on Wales to win, and Ireland and France to finish 5th and 6th respectively, you could have named your own odds!" exclaimed the man known as the Prince of Centres.
"The events of the weekend are highly significant; not only for the progress and form of the various teams involved, but also looking forward to the Lions selection on 30th April. A number of players managed to play themselves onto the plane, and equally, a few played themselves off it," explained Gibson.
"Starting with the Italy against Ireland - Ireland started well, keeping the Italians very honest, by driving into their ruck area and tying in a lot of their forwards. However, Italy's recent successes allowed them to build confidence, and under Jacques Brunel they've been empowered to play a more attacking brand of rugby, led by the talismanic skipper, Sergio Parisse.
"Their backs look much more at ease and more willing to attack, although when Parisse was rightly binned for his trip, Italy lost control and shape, which allowed Ireland to increase their tempo. However, Brian O'Driscoll's yellow card put paid to the revival, and Italy's recent form gave them the confidence to close the game out," observed the Irishman.
"Given that loss and the palpable under-achievement by the Irish players, I have to admit they're really at the mercy of the Lions selectors now, although potential as well as form must be considered when picking the touring party."
Over in Paris, France's rudderless journey at last found direction with a win at the expense of a gallant Scotland.
"France were in real difficulties up until now" added Gibson.
"They have been unsure of their style and gameplan, but this win will give them confidence."
"The nature of French rugby is movement, speed, intuition and counter-attack. They are being asked to play highly structured rugby, which is not in their character. In the first half, Scotland absorbed everything thrown at them and did very well in that regard. But the penalties early in the second half, followed by the sublime Fofana's try, gave France hope. The backs suddenly started to click and they looked like 'France' again, despite a a disappointing campaign overall," mused Gibson.
And what of Cardiff? The noise, the passion and the singing of the pre-match festivities were enough to give Wales a ten-point lead before they even ran out of the tunnel. English players confessed after the game that the noise was so loud from the Welsh fans they simply couldn't hear themselves on the pitch. Gibson stated that whilst a young player believes he can cope with that level of pressure, until he has actually experienced it, he has no idea as to how he will react:
"The Welsh victory was a classic example of what can be achieved with intensity, self-belief and passion," said Gibson.
"For all of the players involved that would have been the experience of a lifetime. You can tell a player what to expect from the Cardiff crowd, you can plan your reaction and coping strategy, but until that player has been out there and experienced it first hand, you have no clue as to how he will react. And many English players were shaken by that pressure," observed Gibson.
"That hostile crowd would have disturbed any visiting side, and the young England side lacked the reference points to deal with the situation. It was unknown territory for them," he explained.
"They thought they knew the answers, but when harsh reality surprised them and they were overwhelmed by a superb display of passionate and powerful 15-man rugby from Wales.'
"Looking at the game, the Welsh players bristled with ideas and confidence. They had freedom of thought and freedom of action, whereas England looked as if they were playing by rote."
"If I look back to the 1971 Lions tour, the great and late Carwyn James encouraged players to play. He embedded the confidence to take risks, and if the decision was right but the play did not work, he'd just say 'do it again until you get it right.' In short, he coached both our technique and tactics, but also gave us our decision making skills. He gave us the tools and then empowered us to use them. That is the way you create a culture of trust and belief within the team," commented the great Irish three-quarter.
"England, with a new regime, seem to be doing nothing more than trying to scrape through the next game. They could have easily lost to any of Ireland, France and Italy, yet won playing an attritional game. Their attacking ambition and creative flair have been lacking in extreme. I believe the coaches are looking for an immediate function over long-term performance.
"The attitude seems to be we'll do what we can to win and no more. This is a dangerous strategy. I believe they should be looking for a performance over a result. Once those performances and styles are in place, the wins will come almost organically. They need to find players who not only have the technical skills to play international rugby, but the emotional control to play under great pressure, which, as we saw, was lacking on Saturday."
"In short, they were overwhelmed in every facet of the game," said Gibson.
With a Lions tour barely a couple of months away, Mike Gibson believes that having players with strength of character and toughness of mind is essential to succeed.
"Playing for the Lions is about camaraderie and creating an environment,' he explained.
"Above all, you MUST take on board the responsibility of continuing the Lions legacy. You are representing over 100 years of history, and that is a big responsibility," explained the five time Lions' tourist.
"You need to understand what that legacy means; you need to break down the barriers of national shirts and be open to exchange views and thoughts on the game. You must contribute to the team ethic, and in my experience, the selfless players are the ones that will derive most from the tour," he observed.
"The prime focus must be to integrate as quickly as you can to create that ethic. Do so, and the end product will be a tour of a lifetime, a collection of friends, personal bonds and memories that will stay with you for your lifetime. Tap into every piece of knowledge and experience available to you; people like Gerald Davies and Gareth Edwards could offer much to the current player and they will welcome the chance to share that."
Wise words from one of the greatest players to grace the British and Irish Lions shirt. However, no Lions preview would be complete without a thought as to the likely Test side. Mike Gibson is bullish about the British and Irish Lions' chances, but is prepared to take a chance with his selections:
"One of the players that really impressed me in the Six Nations was young Billy Twelvetrees. He looked totally at ease on the international pitch, going about his business in an unfussy manner. I think he'll play a part in the test side and I always believe British sides operate best with a 'footballer' at inside centre. Equally some positions are very close to call. I'd love to see Mike Phillips at 9, provided he is prepared to vary his game a little. Second row is equally tough, and if Paul O'Connell gets fit in time, he could yet make the Test side. But time will tell."
Mike Gibson's Lions XV: 15 Leigh Halfpenny, 14 Alex Cuthbert, 13 Brian O'Driscoll (c), 12 Billy Twelvetrees, 11 George North, 10 Jonathan Sexton, 9 Mike Phillips, 8 Jamie Heaslip, 7 Justin Tipuric, 6 Sam Warburton, 5 Geoff Parling, 4 Alun Wyn Jones, 3 Adam Jones, 2 Rory Best, 1 Cian Healy.
On that mildly controversial selection, that is it for this season's Expert Witness. We would like to thank Mike Gibson for giving up his time to air his views. Expert Witness will be back for the Lions tour, with an exciting panel of players to add their views to what promises to be a great summer of rugby. See you then.
Mike Gibson spoke to James While
Mike Gibson MBE played 69 times for Ireland, and went on a record 5 British and Irish Lions tours, playing in 12 tests. An integral part of both the famous 1971 and 1974 sides, Gibson's distinguished career began in 1964, and he earned his 69th and final Irish cap in the second test win against Australia in Sydney in 1979 aged 36. The Irish Solicitor's all-round talent marked him out as arguably the greatest centre of any era. Gibson's brilliance lay in the perception and timing of his attacking play, the focus and anticipation of his defence, and the rare dedication and commitment with which he applied himself across a 15-year international career in which he appeared in a then-world record 81 Tests.