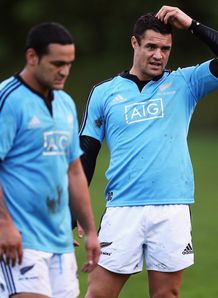 Related links
Teams
Time for Tank Lanning to run the rule over the five matches making up the Rugby 5 bet this week ... and what a strange choice of games it is.
No Boks vs Samoa or Italy vs Scotland to make it simple, instead some brutal outliers in the form of Argentina vs Georgia, and Fiji vs Tonga to go with a tricky little sucker in the form of a mid-Super Rugby break, the Golden Lions vs Sharks fixture.
Spinning the coin might be right up there with what I have to say below...
Each Rugby 5 bet comprises five matches, which are labelled M1 to M5. In each match the home team is shown as Team A and the other as Team B, and you must predict the results of all five matches using one of the following five result options:
1 = Team A to win by difference of 1 to 12 points (say 7-3, 10-9, 24-12 etc)
2 = Team A to win by difference of 13 points or more (say 19-6, 20-3, 32-6 etc)
3 = Draw
4 = Team B to win by difference of 1 to 12 points
5 = Team B to win by difference of 13 points or more
So a look at the weekend then...
---
M1 Lions vs Sharks
The Lions, promised some much-needed game time against decent opposition by SARU as they build toward the controversial Super Rugby promotion / relegation game against the Kings, were bitter about the Stormers fixture being downgraded to a young WP side last week, and duly blew them away. This week, however, they get their wish in the form of a Sharks side boasting the likes of Riaan Viljoen, Odwa Ndungane, Louis Ludik, Charl McLeod, Jean Deysel and Keegan Daniel. And with young Wiehahn Herbst looking to prove Bok coach Heyneke Meyer's selection of Lourens Adriaanse ahead of him wrong, his battle with the massively powerful JC Janse van Rensburg will be a goodie. The Lions side, with the likes of CJ van der Linde, Michael Bondesio and Dylan des Fountain on the bench, let alone the run on XV, looks competent, if not stellar. They will be more than solid up front, do the basics right, and look to Marnitz Boshoff to control the game. Opposite him will be the never say retire, no matter how many knee operations they send his way, Butch James, and the result may well hinge on how much rust now sits on those joints. I am going to back the wily old fox.
---
M2 New Zealand vs France
Last week saw the All Blacks at their very best as they fired their way to a 30-0 drubbing of the French that takes their overall record between the two sides to played 53, won 40, lost 12 and drawn 1, and I do not see that trend changing much in New Plymouth this weekend, especially with the legend that is Dan Carter back at the helm. Ma'a Nonu might hack at Super Rugby level, but right at the top, he can kick, pass and cut the line with the best of them. What was also impressive about the All Black performance last week was their defence. Patiently able to absorb wave after wave of French attack, the mistake inevitably came, and the All Blacks were able to pounce, twice scoring majestic tries from over 80 metres out, showcasing their incredible offloading in the tackle and silky passing skills. Also, Kieran Read is in a class of his own at number eight. France have made eight changes this week, two of which are injury-enforced, with fly-half Frederic Michalak (dislocated shoulder) and number eight Louis Picamoles (hip contusion) ruled out. They are replaced by Remi Tales and South Africa-born Antonie Claassen, meaning they are having to use their third fly-half in as many games. Beware the injured cockerel they say, but not this time.
---
M3 Australia vs British & Irish Lions
And after more warm-up games than you can shake a stick at, we eventually get to see what all the fuss is about - the first of a three-match Test series Down Under. Whether the midweek loss to the Brumbies will serve as a wake-up call or a confidence denter for the Lions remains to be seen, but it really was a makeshift Lions side that included a leftfield call-up of Shane Williams, so perhaps not too much can be read into it. The Lions, though, have lost plenty of players to injury, and that will be a factor. It's 15-5 to the Lions out of the 20 games played between the two sides, with an average seven-point difference, but with tours only happening every twelve years, not much can be read into those stats, bar the fact that the score is unlikely to blow out. Robbie Deans has gone with Israel Folau on the wing, and James O'Connor at fly-half, which suggests a more attacking approach. A lesson from the Brumbies win, though, which was about territory and defence, as is Jake White's way, might suggest the more prudent selection to have been Berrick Barnes at fly-half, instead of full-back, and O'Connor at the back. This series will be decided up front via the scrum and line-out, the battle of the breakdown, and which fly-half dominates the game. The Lions have gone with Adam Jones instead of Dan Cole at tighthead, Sam Warburton as the openside, perhaps influenced by his status as tour captain, and Johnny Sexton at fly-half. The Aussies have a pack that can now actually scrum thanks to the Waratahs, and one of the best opensides in the game in Michael Hooper, so I think the Aussies will shade all the vital battles.
---
M4 Argentina vs Georgia
Not even listed on the IRB website as an official fixture for the weekend, this truly is a strange game to have as part of the Rugby 5 mix. The two sides have met only twice in their existence, with Argentina winning both. 33-3 in Lyon in 2007, and 25-7 in Palmerston North as part of the 2011 Rugby World Cup. The Georgians are a feisty lot who are more than a little robust on the physical front, and the one thing they can do is scrum. But the Argentineans, father to the famous Bajada scrum technique that sees all eight members of the scrum combining to explode at the same time, are not shy of a little physicality up front and will be smarting at their recent convincing two Test series loss to the second string English. They should have too much in the tank for Georgia, especially at home.
---
M5 Fiji vs Tonga
The IRB Pacific Nations Cup 2013 will go down to the wire with three sides all in with a mathematical chance of taking the title. Canada needed a win against Japan a win to bag the title at the first time of asking, but they were beaten 16-13 by a hugely in form Brave Blossoms side, who beat Wales on the weekend. The result means Fiji, who defied the driving rain to run in four tries to beat USA 35-10, and Tonga could finish top, depending on how their head-to-head finishes on Sunday in Tokyo. A simple recent comparison would make Fiji the favourites given that Tonga were only able to beat the USA 18-9, but we all know what pressure of a big game can do. The two sides have played each other 85 times with Fiji winning 56 of them, but Tonga are now up to tenth on the IRB world rankings, above Scotland and Italy, while Fiji remain in fourteenth place. Perhaps a good time to haul out the double bet?
By Andrew 'Tank' Lanning