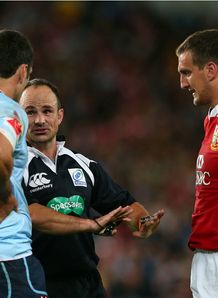 British and Irish Lions captain Sam Warburton was happy to see his side increase their intensity against the Waratahs.
Warburton's side will face Australia in the first Test next weekend, with several of their possible starters getting a run-out in Sydney and avoiding any injury concerns apart from inside centre Jamie Roberts.
The Lions tour captain did his own chances of Test selection no harm with an impressive showing, but praised the clinical edge shown by the Lions backs.
"The Waratahs were really tough and I don't think the score reflected the way they played, but we definitely stepped up and I knew we had to," said Warburton.
"I thought the forwards did a great job and the backs were very clinical so I'm very pleased with the performance. From watching the Waratahs we knew they were very similar to us and very direct.
"That's the bit we're most looking forward to and next week is going to be massive.
"Australia are an intensely tough side to play and it's going to be a challenge on Saturday.
"But we first go into the game against the Brumbies and it's going to be another tough one for us so until that game's over we just have to think about that.
"Next week we'll have an edge as there will be more fans in Brisbane and it will be game on."