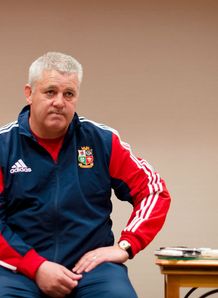 British and Irish Lions head coach Warren Gatland insists that no spot in the side is guaranteed ahead of Saturday's Test match.
The Lions will take on the Barbarians in Hong Kong before heading on to Australia, with Saturday's side giving the Scottish trio of Sean Maitland, Stuart Hogg and Richie Gray the chance to impress.
Paul O'Connell will act as captain in the absence of regular captain Sam Warburton, who is forced to miss out due to a knee injury, but Gatland confirmed that nothing is set in stone for the first three matches.
"What we've always said is that everyone will get a start in the first three games, and we will look at certain combinations, mixing and matching a little bit," said Gatland.
"The great thing at the moment is there is a huge amount of competition within the squad.
"I think a lot of players feel that if they play well and put their hand up they've got a chance of being selected.
"The guys who go out on Saturday get their first opportunity to set a mark and put some pressure on the other players in the squad.
"In terms of the Test side, probably not until after the first four games will we actually even start thinking about that. I think it is important that these players feel like they've got a chance to go out and impress.
"As coaches and management, we are not going around with any preconceived ideas about what we think the Test side should look like.
"We want to go out and play rugby, and be positive about the way we play. We will move the ball, we want to score lots of tries. We want to go and show the Australian public that we are capable of moving the ball and scoring lots of points.
"But the whole focus is about coming back with a Test series win, and if we need to be pragmatic, then we will do that as well.
"We feel we have got a squad and the ability to play any type of game, whatever conditions are thrown at us, and being able to change from one style to another."