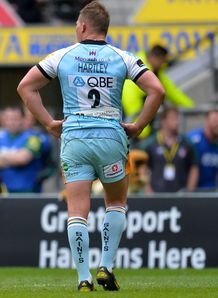 Related links
Also see
Dylan Hartley will miss the British and Irish Lions tour after being found guilty of verbally abusing referee Wayne Barnes.
Hartley was sent off shortly before half-time during Saturday's Aviva Premiership final for allegedly calling Barnes a "f****** cheat".
The hooker pleaded not guilty to the charge at a disciplinary hearing on Sunday, insisting that the comment was directed at his opposite number Tom Youngs and not Barnes.
However, the panel found him guilty and determined that this his offence was mid-range on the scale of seriousness. An entry level suspension for such an offence is 12 weeks of which one week was removed due to Harltey's good conduct at the hearing.
"We cannot get around the fact that Wayne Barnes was certain that Mr. Hartley's comments were directed at him," said Judge Jeff Blackett who chaired the hearing.
"Wayne Barnes said that if he had had any doubt in his mind, then he would have given the player the benefit of the doubt. In terms of sanction, calling a referee a cheat is an attack on his integrity and contrary to the core values of rugby and therefore we have taken a serious view and provided a serious sanction."
As a result, Hartley will be free to play again on September 1. He is suspended with immediate effect until July 6 under the agreement that the Lions tour represents eight weeks of the eleven-week suspension. He is then also banned from August 17 to August 31 which is the first three weeks of the Saints' pre-season campaign.
Hartley has the right to appeal.