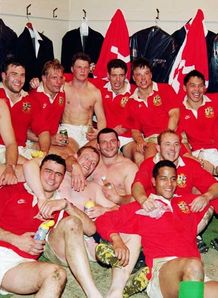 A Lions team with a strong English confingent were edged out 2-1 by their All-Black counterparts in a very close series.
Ian McGeechan was coaching his second Lions team and he handed Gavin Hastings the captaincy for the series.
England supplied 17 of the 30 players in the squad, re-affirming their status as the dominant force in northern hemisphere rugby.
A short preparation for the first Test included only five warm-up matches of which The Lions won four and lost one.
The first Test started reasonably early in Christchurch and was one of the closest matches in Lions history.
The Lions got off to a bad start following a controversial try by Frank Bunce but the sense of injustice seemed to spur The Lions on and Gavin Hastings' boot became vitally important. The skipper scored 18 points as the tourists moved into a narrow lead going into the final minute.
But the Lions were denied in the final moments as Grant Fox scored a highly controversial, and decisive penalty to give New Zealand a 20-18 victory.
The injustice spurred The Lions on and they hit back in fantastic fashion in the second Test.
Martin Bayfield dominated the lineouts for The Lions, Hastings' boot was once again impeccable, Rob Andrew added a drop-goal and Rory Underwood scored a try to give The Lions a 20-7 win.
It was The Lions' biggest-ever win against the All Blacks and they went into the final Test brimming with confidence.
New Zealand improved massively in the third and final Test, desperate to prove that their victory in the first game was no fluke.
But the Lions made a great start with Scott Gibbs going over and Hastings converting before adding a penalty to give The Lions a 10-point lead.
The All Blacks hit back in the second half though with a devastating display.
Jon Preston, captain Sean Fitzpatrick and Bunce all scored tries for the Kiwis, Grant Fox converting all three to add to his three penalty kicks to give New Zealand a series-clinching 30-15 win.